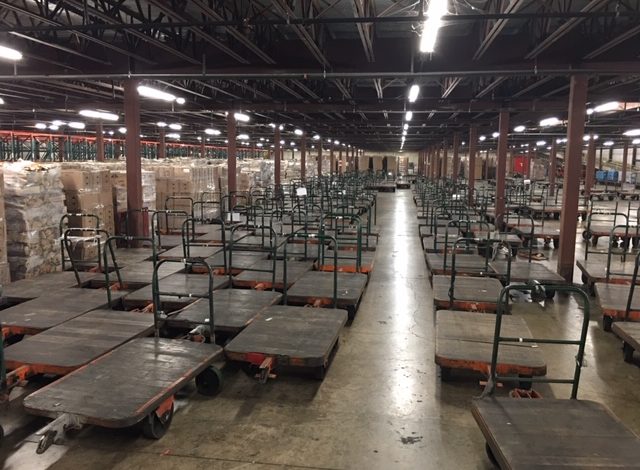 Nutting Warehouse Trailers for Grocery Supplier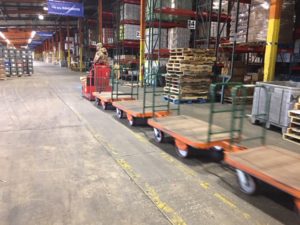 Dallas-based Southwest Materials Handling Co. (SWMHC) has delivered a new shipment of 50 3,000-lb. capacity Nutting Warehouse Trailers to fellow Texas firm Grocery Supply Co., for a Distribution Center in Sulphur Springs, Texas.
The Nutting Z52-001-831 trailers, which offer a 36 in. by 60 in. deck, are being used for transporting cases of food goods from vertical racking to the shipping (or loading) dock. The reliability of the Nutting product is something that Grocery Supply has relied on for over 40 years. This latest batch will be used to both replace aging units and expand the operating fleet.
SWMHC is a distributor of Nutting Carts & Trailers, a division of ACCO Material Handling Solutions LLC, a manufacturer of a range of material handling products including engineered manual and electric hoists, Patented Track cranes, and industrial cart and trailers. Beth Boughton, of SWMHC, said: "The trailers are the optimum size for palletized food goods and aisle clearances. Users like the hardwood deck that reduces noise and offers a non-slip load surface. Both features suit the product to the food and beverage sector."
Kevin LeMieux, sales manager—Nutting products at ACCO, said: "Most warehouse trailers are ordered in quantities of 25, 50 or more. As Beth said, the range is well suited to the food and beverage industry, with users noting in particular the benefits of caster steering for towing and ease of manual positioning, and hardwood decks with non-slip surface for palletized caseloads. However, the trailers are used in multiple markets. The key differentiator with Nutting is our durable design and high-quality manufacturing that results in customers like Grocery Supply and SWMHC coming back to Nutting for over 40 years."
Boughton added: "[Grocery Supply] has over 450,000 sq. ft. of space with 12,000 dry, refrigerated and frozen SKUs [stock-keeping units] in inventory. We have been able to retain a solid relationship with this valued customer because we remain attentive to their ongoing material handling needs, delivering quality products that provide solutions for their operations and support business success. The trailers allow the user to pick four customer orders in one pass thru the warehouse, utilizing an 'out of case' picking method.
Nutting trailers are widely used in such applications for picking groceries for convenience stores and other independent grocery outlets. In some instances, at Grocery Supply and elsewhere, they are utilized behind electric tow tractors with multiple units used to increase picking rates. As a result of this method, aisles are kept to a minimum and picking is maintained at the maximum rate.
LeMieux said: "[SWMHC] do a great job of presenting the warehouse trailers to their customer base; they are part of an extensive dealer network that spans the breadth of the United States."