Cranes
ACCO is an industry leader in supplying overhead crane systems for material handling. Our heavy-duty cranes are engineered to handle large and heavy objects to maximize space. Cranes can be hand-propelled or motor-driven and come in single and double girder structures. With capacities of 15 tons and beyond, spans over 60 feet, and variable travel speeds, there are endless opportunities for customized solutions to handle any project. Crane interlocks are available to transfer loads from one area to another. Learn more about our crane configurations and capabilities.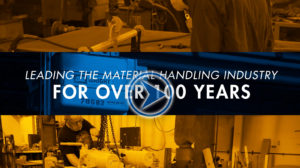 Louden Patented Track Cranes
Louden® manufactures a complete line of crane, monorail, and stacker systems to service material handling transportation across a wide range of industries.
View Products
Trambeam Patented Track Cranes
Trambeam® products are used in underhung crane and monorail material handing systems to move almost every conceivable type of material throughout many industries.
View Products