Hoist Inspections: Why It's Important to Perform Regular Inspections on Overhead Hoists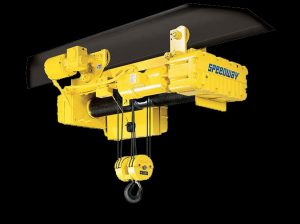 Used in a variety of applications and industries, overhead hoists are vital in manufacturing and warehousing facilities. Due to the constant lifting, lowering and moving of large, heavy materials, it is essential to perform regular hoist inspections for both safety reasons and to keep operations running smoothly. Waiting until it is too late could be detrimental to both your employee's safety and to the hoist itself. Putting a hoist inspection procedure in place will save you time, money and keep your operations from coming to a screeching halt.
There are three industry groups essential to determining the inspection requirements: The Occupational Safety and Health Administration (OSHA), the American Society of Mechanical Engineers (ASME) and the Hoist Manufacturers Institute (HMI). Together, it is recommended to perform regular assessments on overhead hoists to identify any wear and tear or damage on the equipment. OSHA does not have specific guidelines for routine hoist inspections, so it is advised to refer to OSHA-CFR 29 Part 1910.179, which is the federal regulation for overhead and gantry cranes and provides the occupational safety and health standards. Hoists are commonly used in conjunction with overhead and gantry cranes.
Other requirements to follow are the ASME B30.16 Overhead Hoists (Underhung). ASME offers these standards to parties that employ these devices, such as government authorities, manufacturers, purchasers, seller and users. These specifications are typically referred to as the "national consensus standards".
All new and altered cranes and attached hoists must be inspected before usage and at regular intervals as determined by OSHA. The equipment must be inspected by qualified individuals who have gone through the appropriate training. According to the Material Handling Industry (MHI), "ASME defines qualified persons as people who, by possession of a recognized degree in an applicable field or certificate of professional standing or by extensive knowledge, training and experience have successfully demonstrated the ability to solve or resolve problems relating to the subject matter and work" (MHI.org, MHI Solutions Magazine Q3).
There are a variety of inspections that are performed on overhead hoists. On a daily basis or prior to one's shift, the hoist's operator should inspect the hoist for any noticeable damage. Areas in which to check include the operating mechanism, overload limit devices, hooks, latches and chain or rope. For a more in-depth inspection, a qualified person, per the ASME standards mentioned above, should be performed on a regular basis. How often a hoist is thoroughly inspected in usually based on a hoist's frequency of use and the importance of the equipment within the overall operation. Frequency of inspection can range from once a month to once a year. If you are unsure on how often to inspect, refer to the hoist's manual provided to you by the manufacturer.
Regular hoist inspections can take away valuable resources from your daily operations including manpower, time and money. Many companies find it beneficial to hire an outside firm to perform routine inspections. Regardless of how the hoist gets examined, it is important to remember that hoist maintenance is critical to your operations, the longevity of your equipment and the safety of your staff and facility. For more information, visit www.mhi.orgto learn about hoist safety and inspection guidelines.
Adapted from "Hoist Inspection Guidelines," by J. Feingold, 2019, MHI Solutions Magazine, Volume Q3, 89-90. Copyright (2019) by MHI.