Kresl Power: Hoists, Cranes, Sales & Beyond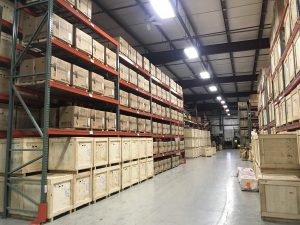 Kresl Power, Inc., located in Batavia, IL, has been servicing and distributing the Acco® product line since 1959. As the authorized Master Parts Distribution Center, Kresl has the fastest delivery of genuine Acco replacement parts on the continent, representing Accolift, Wright, Louden, Vac-U-Lift and Trambeam. Kresl's main focus is keeping Acco equipment working!
Why call Kresl?
There are certain pieces of equipment customers may not have a back-up for – cranes for example. If the crane goes down, so do they! A vital part of their operation can't do it's job. Time lost; deadlines are missed. Let Kresl find you the part you need to keep your business running.
As a customer, you are king when dealing with Kresl! You have 3 things going for you. First, you don't have to stock any parts yourself. Kresl stocks over 11,000 different items and can get them to you the same day, overnight – however you want them. Secondly, Kresl offers technical support with their in-house service department. Thirdly, Kresl understand and know the product line inside and out. For 60 years, Kresl has worked with and have learned all aspects of the Acco brand and products. They are truly experts.
Rapid Ship Program
Not only can you get parts quickly from Kresl, but you can order stocked configurations of Accolift Electric Chain Hoists, Wright Speedway and Work-Rated Wire Rope Hoists and Wright Crane Kits. Modify any stock hoists and receive same day or next day shipping depending on the modification. Each top running crane kit comes with (1) pair of end trucks, (1) pair of drive and (1) control. To learn more about Acco and Kresl's Rapid Ship Program, find us on the web at www.accomhs.com.